Featured Vacation Rental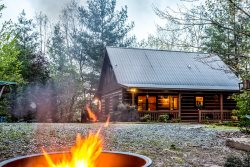 Rustic Refuge- Aska Adventure Area Cabin Rental
Blue Ridge Cabin Rentals - North Georgia
Sundance Cabin Rentals offers vacationers a fantastic selection of cabin rentals in North Georgia, Blue Ridge, Ellijay and the Aska Adventure Area. Does your pet need a vacation too? Select a pet friendly cabin rental that is also perfect for families and friends. All our cabins are fully equipped for the perfect cabin experience and thanks to the rave reviews of over 400 guests, we want you to be confident of a fun time when you rent a cabin from Sundance. Call us today or simply book online. See you soon! (888) 881-3286

Our stay was very pleasant, our cabin was beautiful as always when dealing with Sundance Cabin Rentals. We had a blast as always, we enjoyed it so much we booked another one the day we got home. ~Stephan, Spring Hill, Feb 18, 2015
All Cabin Rentals - North Georgia
Blue Ridge and the surrounding area of North Georgia has been described as magical, and not surprisingly so. Our area is home to small local businesses, groups of community minded folks, and families who love living here in our lovely mountains and valleys. You and your family or small group can come to Blue Ridge too, and spend quality vacation time in a community of people who will treat you as friends. And one of the best things about coming here is our exceptional selection of gorgeous Blue Ridge cabin rentals, and North Georgia cabin rentals. Book your vacation cabin today in Blue Ridge, Aska area, McCaysville, Cherry Log, Ellijay, Morgantown or Mineral Bluff. We have pet friendly cabin rentals too.
Blue Ridge Cabin Rentals
Spend your next vacation around Blue Ridge, Georgia and stay in one of our deluxe cabin rentals. We have over 30 cabins and all are fully equipped and perfect for families and friends. Discover the Aska Adventure Area and the Toccoa River, and relax in the hot tub and your spacious patio or deck. Call us today. (888) 881-3286
North Georgia Cabin Rentals
We offer more than 30 vacation cabin rentals in North Georgia, surrounding Blue Ridge, Ellijay and the Aska Adventure Area. You'll discover that some cabins are tucked away into the quite woods, others along the Toccoa River, and some are perched on top of a big hill with scenic views of the mountains. All our cabins are perfect for families and small groups, and romance too. Whatever you need in a cabin, all are fully equipped and ready for you. Questions? Call us today. (888) 881-3286
Last Minute Discounts

Late Start? No problem!

Every Monday, we offer Last Minute Discounts, marking selected properties 15% off of their nightly rates! Check out these properties below, and make plans to head to the mountains this week Nov 16-22

NOTE: The listed prices below do not include the 15% Discount! The discount will not be automatically be applied when you enter in the dates for your stay, so be sure to apply it to your reservation!


Toccoa River Cabin Rentals
Many believe that God made the Toccoa River as well as the Cartecay River so that people could arrive from far and near to spend quality time with friends and family inside a beautiful vacation cabin rental. When you walk outside your cabin to fish, float, wade, swim or just meditate along theses waters, you'll understand why these fully equipped cabins make the best vacation destination ever. Questions? Call us today. (888) 881-3286
Pet Friendly Vacation Cabin Rentals
Your pets are welcome at our cabins because we understand, they need a vacation too. Why leave a family member behind? Your pets can go on vacation with you in these pet friendly cabin rentals near Blue Ridge in N. Georgia. Pack up and enjoy your stay with your entire family. Questions? Call us today. (888) 881-3286
5 Pet Friendly Riverfornt Cabins
Enjoy these classic 2 bedroom pet friendly cabin rentals along the Toccoa River in the Aska Adventure Area. Each riverfront cabin is available by itself or rented with the others. Yes, these cabins located along scenic Toccoa Taquohee Trail Rd can be rented separately or together. Book ONLINE or phone today (888) 881-3286
Ellijay Cabin Rentals
Spend your vacation near Ellijay and enjoy local wineries and the Ellijay Apple Festival. Our Ellijay cabins are conveniently located near town, all are fully equipped. Some are on the river, most have fantastic views of the mountains. Ellijay is a fantastic alternative to Orlando. Enjoy!
Aska Adventure Area - Vacation Cabins
Heading south from downtown Blue Ridge is Aska Road that winds its way into the Aska Adventure Area. This picturesque road bends south bordering the edge of Lake Blue Ridge, and follows the Toccoa River. While no one really knows where the name for this popular area originated from, the word Aska is Cherokee in origin and means "Winter Retreat". But this beautiful area is perfect each of four seasons.
Mountain View Cabins
Those of us who prefer a cabin rental with views of the mountains have realized that the views are exceptional throughout the year. Each season brings a change of colors and weather, but nature is always beautiful especially when viewing the mountains from your spacious deck or through the large pane windows. These views can both inspire and humble us. Our Blue Ridge cabin rentals will leave you with views of a lifetime.
Cabins Available this Weekend
Cabins available this weekend in Blue Ridge, Ellijay and North Georgia. A quick list of vacation cabin rentals available this weekend. If you are looking for last minute weekend getaways, here are the cabins for you. Nov 20-22
Christmas Cabins Available
Come spend your Christmas Holiday in one of our cabin rentals near Blue Ridge and Ellijay in the Blue Ridge Mountains of North GA.

Please review our cabins below and start packing!

4-night minimum stay required 12/21 - 1/3 NOTE: It is always confusing listing Christmas availability because some people want to come up before Christmas, some after and some guests want to spend Christmas morning in the cabin. So. . . We are listing cabins here which are available on Christmas Day. Please use the Quick Availability Search to make sure the cabins are available for the dates you desire! (Updated 11/15).
New Year's Cabin Availability
Ring in the New Year in one of our cabins! Continue your tradition of spending New Year's with friends and family in the mountains, or make your New Years Resolution now to spend it in the mountains.

We have a 4-night minimum stay from 12/21 - 1/3 for all our cabins.

Who knows, maybe it will even snow! (Updated 11/15)